Musical Director – Rebecca Pennykid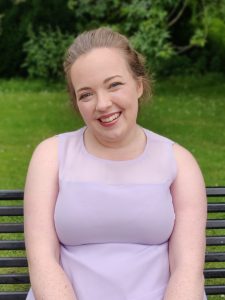 Rebecca Pennykid is a Scottish mezzo-soprano and teacher. She is a graduate of the Royal Conservatoire of Scotland, where she studied under the tutelage of Margaret Izatt, and gained her undergraduate degree: Bachelor of Music with Honours of the First Class and an Endorsement in Music Education with Distinction. Rebecca is passionate about music education and is currently completing Initial Teacher Education, at the University of Glasgow, to become a primary school teacher.
As an active musician, Rebecca regularly appears as a soloist across Scotland. She is the Musical Director of the Pentland Junior Singers, where she leads musicianship training and choral singing for children. With a developed understanding of the Kodály methodology and significant experience in teaching this, she has worked alongside the National Youth Choir of Scotland (NYCOS) to deliver training to children and tutors several students. Rebecca recently achieved British Kodály Academy Certification – Level 7 with distinction.
Rebecca regularly sings with NYCOS, where she started her own musical training, in West Lothian Regional Choir, aged seven. With NYCOS she has performed worldwide including in New York's Carnegie Hall, London's Royal Albert Hall and Edinburgh's Usher Hall.
Rebecca is a keen piano player, especially enjoying accompanying choirs and playing for churches. She actively promotes and facilitates inclusion, and has experience working with children with additional support needs.
At the heart of Rebecca's practice as a music educator is an enthusiasm for inclusive and enjoyable music education, which engages and encourages all children.
The Pentland Junior Singers now have their own website that can be accessed using the following link https://www.pentlandjuniors.org
Tickets for this come and sing event are available form the Eventbrite website by using the following link – https://PentlandJuniorComeandSing.eventbrite.co.uk